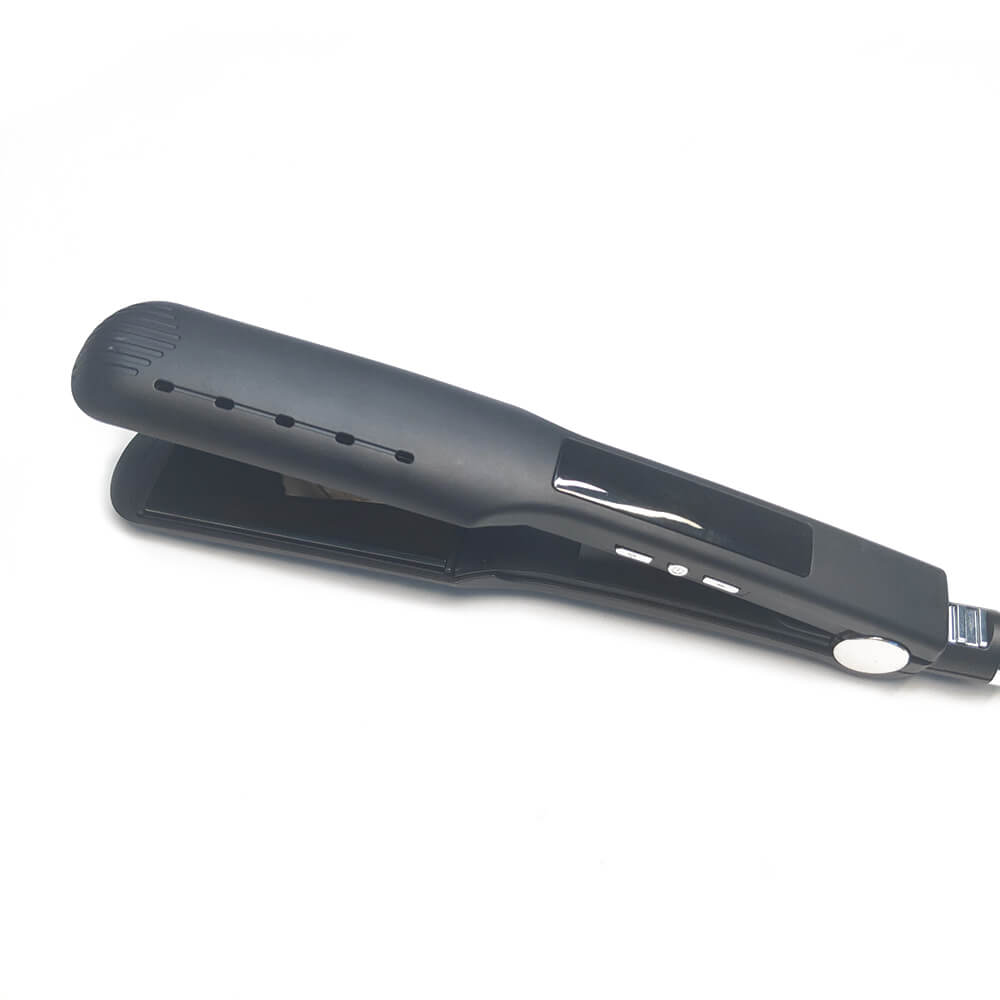 Madame CJ Walker was really onto something when she improved the straightening comb and made it easier for hair straightening for African American. The process is a fairly easy but time consuming task for hair straightening for African American. There are numerous straightening tools available for hair straightening for African American hair with the most popular being the pressing comb also known as the straightening comb. Flat irons are a very popular choice as well. When selecting the hair straightener tool of choice it is important to select the proper size for your hair length as this may determine your results. For example, if you are using a hair straightener brush and have thicker and longer hair then it is best to select a comb that has wider teeth for the best results. If the hair is thin or fine hair then the best option may be to select a tourmaline or ceramic flat iron with a temperature setting below 360 degrees.
First, make sure that the hair is washed and conditioned as straightening tools work best on clean hair. Next, blow dry the hair with a blow dryer that has a comb attachment. Using a blow dryer with a comb attachment is key because it ensures that the hair will not be tangled which assists in making the hair straightening process easier. Finally, you will want to preheat the best flat iron and straightening tool that will be used to straighten the hair. If a pressing comb is being used, you can check to see if the comb is too hot by placing the comb on a towel or a piece of thick folded paper towel. If the comb is too hot the towel will burn or discolor this will let you know that the comb is too hot and needs to cool. Before using the straightening tool a heat protector such as a serum or balm is suggested as well. As mentioned earlier, selecting a straightening tool is very important. Some pressing comb options for hair straightening for African American hair include an electric pressing comb which is great because most let you adjust the temperature if needed, the stove model which is mainly used by professional hair dressers or if you prefer the pressing comb it can be heated on the kitchen stove as well.
To avoid damaging your hair from being frizzy, thin or brittle here are a few things to keep the hair healthy:
Don't press relaxed or color treated hair as this will cause the hair to weaken more because of the chemicals already on the hair and may cause breakage to occur. Don't press the hair everyday as too much heat is being applied and may cause damage. If you're using a flat iron remember not to set the temperature to the highest setting as this may be too much heat for the hair as well.
Olayer is hair straightener manufacturer in China, offer cold air hair straightener to the world market, if you are looking for hair styling tools with cold air technology, olayer will be the best partner for you.
If done properly, great results can be achieved. The process is not challenging but can be a bit time consuming for hair straightening for African American
https://plas.co/wp-content/uploads/2021/12/Cold-air-hair-straightener.jpg
1000
1000
admin
https://www.plas.co/wp-content/uploads/2023/02/plas-co-1.jpg
admin
2021-12-11 13:28:05
2021-12-11 13:28:08
The Hair Straightening For African American